Blacklight Adventure Zone
Adventure that the whole family can enjoy.
The newest and most exciting inclusion in the new complex - the Blacklight Adventure Zone - is now open.
The Adventure Zone, one of the first in the UK to provide three Blacklight activities under one roof, can be found on the Ground Floor of the  complex.
The golf is available to all ages on a pay as you go basis during the opening times. The High Ropes and Walls are for those aged 8 years or over and run on a session basis, which should be booked in advance to avoid disappointment. 
Blacklight Half Term Special
Come and try our Blacklight Adventure Zone this half term.
Monday 18 to Friday 22 February  10am to 12 noon and 2pm to 4pm
Special Half Term Offer:
4 to 7 year olds – have a go on the Climbing Walls and Golf  £5 per person
8 year olds and over – try the Climbing Walls, High Ropes and Golf  £9 per person
Children 15 and under must be accompanied by an adult.
Half Term special only available to those 18 years or under. Only adults over 18 accompanying children can use the facilities.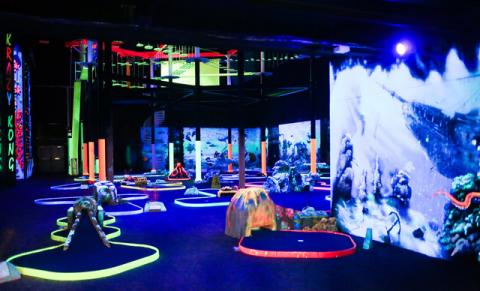 Blacklight Adventure Golf
Everyone can test their golfing skills to the limit in the Blacklight Adventure Golf. This is an incredible experience for anyone who likes to play mini golf, except this time you're playing 18 luminous holes in a blacked-out space, surrounded by amazing 3-D images that recreate a magical underwater seascape.
It's suitable for all ages and everyone can just turn up and play!
| | |
| --- | --- |
| Adventure Golf | Opening Times |
| Monday to Friday | 2pm to 9.45pm |
| Saturday | 12 noon to 7.45pm |
| Sunday | 10am to 5.45pm |
Blacklight Climbing Walls and High Ropes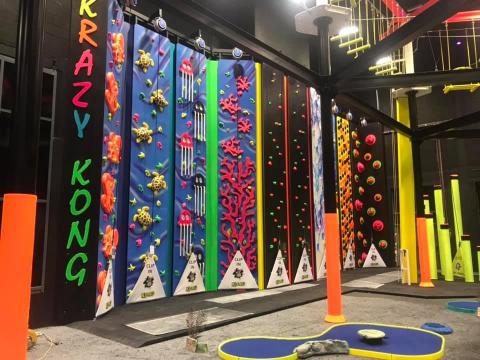 Climbing Walls
The twelve colourful climbing walls are a fun way to experience the thrill of climbing in a safe and friendly environment.
Everyone, big and small, will enjoy the challenges and the experience from their very first go. Each climb has a different challenge giving both your body and brain a full workout!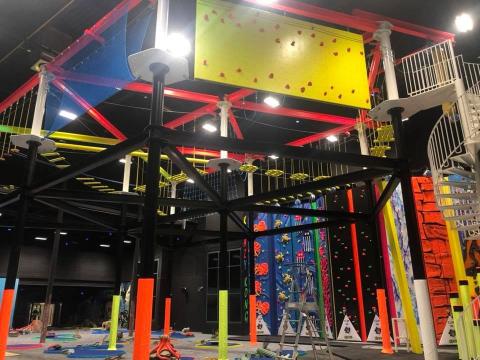 High Ropes
Eighteen high ropes including stepping stones, balance beam, magic carpet and net traverse are part of this unique experience.
For safety reasons, users must be aged 8 or older for both the climbing walls and high ropes.
Session Times
The High Ropes and Walls are available at the session times below. Each session starts with a 15 minute Safety Brief before being permitted on the ropes and walls.
High Ropes and Walls
Session Times
Monday to Friday

4pm to 5.45pm

6pm to 7.45pm

8pm to 9.45pm

Saturday

12 noon to 1.45pm

2pm to 3.45pm

4pm to 5.45pm

6pm to 7.45pm

Sunday

10am to 11.45am

12 noon to 1.45pm

2pm to 3.45pm

4pm to 5.45pm
All sessions must be booked and paid for in advance
To secure your place, at your chosen time, you can pre-book a session one week in advance. Your booking must be paid for at the time of booking. Bookings can be made as follows:
In person: at Ards Blair Mayne Wellbeing and Leisure Complex, Monday to Friday 6.30am to 10pm, Saturday 8am to 8pm, Sunday 10am to 6pm
By telephone: Monday to Friday from 9.30am to 4.30pm on 0300 013 3333 extension 40288
Prices
| Blacklight | Golf |
| --- | --- |
| 12 years & over | £7 |
| 6 to 11 year olds | £5 |
| 5 years & under | £3 |
| Concession | £5 |
| Family | £25 |
| Group/Party | £5 |
| Blacklight | Walls & High Ropes |
| --- | --- |
| 12 years & over | £9 |
| 8 to 11 year olds | £5 |
| 7 years & under | Not available |
| Concession | £5 |
| Family | £27 |
| Group/Party | £5 |
Family - Maximum of 5 persons, one of which must be an adult.
Group/Party - Price applies per head for 10 or more persons
Concession - over 60s, disabled, unemployed, student, young adult. Proof must be provided for concession rates.